The performance and longevity of your vehicle depends on how well it's maintained and serviced. Curt's Service Center, Inc. will make sure your vehicle is always getting the gold standard of service—whether you're in for a routine oil change or due for emissions inspection in Nazareth, PA. We service all makes, models and years, giving you confidence in your vehicle's condition and function.
Emissions inspections:

When your vehicle is due for state-mandated inspections—including its emissions inspection in Nazareth, PA—schedule an appointment with us. We handle emissions and other vehicle inspections and testing, so you can renew your registration. These tests are quick, taking just a few minutes to complete most times! Schedule your appointment for your emissions inspections and we'll have you in and out in no time at all.

Oil changes:

The most important part of vehicle maintenance is an auto oil change in Nazareth, PA. We make sure your engine is getting the best possible treatment! During our oil changes, we use only the best in synthetic oils and high-quality filters. We give your car the works, so it runs like a dream in between scheduled services. We can also provide oil flushes and degreasing services. And of course, we're here to take care of any peripherals, including headlights, wiper blades, the air in your tires, air filters and more.

Tires:

Drive on into our shop for tire replacement services. Whether you're rolling in on a recent puncture, a spare tire or balding treads, we'll get new ones on in a jiffy. Choose from our selection of various treads and get the benefit of our expertise when it comes to installing new tires. We can also advise you on the need for tire rotations based on tread wear.

Brakes:

If your brakes are stuttering or feel mushy, call us to schedule an appointment. We can repair and replace brake pads, calipers, rotors and more to restore the stopping power to your car. We're also able to provide master cylinder service and brake bleeds, to get rid of any air in your lines or issues with your braking.

Transmission servicing:

Notice red fluid leaking on the driveway? This is transmission fluid, and it's a clear sign you need your transmission serviced! We can provide flushes and fluid replacements, keeping friction and debris out of your case.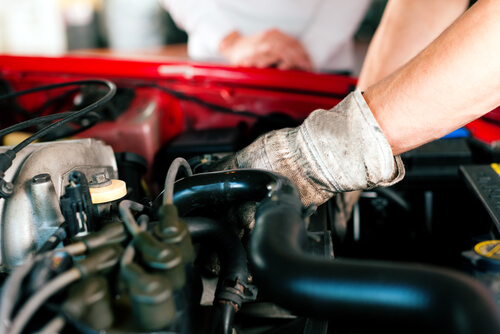 Servicing all makes and models
The better you maintain your vehicle, the longer it's going to last you. If you're in for a routine oil change or due for emissions inspection in Nazareth, PA. For honest service, provided by trained experts who are about you and your vehicle, schedule an appointment with Curt's Service Center, Inc.
We're available at 610-759-7159 to schedule an appointment.