Auto Repair in Nazareth, PA
Curt's Service Center, Inc. has been in business since 1984, helping customers maintain their vehicles to keep them running right. Make us the mechanic you trust for proper maintenance, preventive services, and vehicle inspections in Nazareth, PA. We'll give your vehicle the attention it deserves to stay running right, getting you safely to where you need to go.
Contact us today to schedule a service appointment! Service is our Middle Name
We've been locally-operated from the same location for more than 35 years. Our customers know where to find us and we aim to continue providing service for 35+ more!
We promise to serve you and your vehicle honestly and reliably. We want all our customers to feel satisfied with our work and safe in their vehicles.
MECHANIC IN NAZARETH, PA
Your vehicle sees a lot of miles. The best way to make sure it sees as many as possible is to keep it well-maintained. At Curt's Service Center, Inc., that's our one and only goal. Our auto mechanics in Nazareth, PA are dedicated to delivering all of the routine maintenance and scheduled services your car needs to stay safe and reliable out on the road. Stop in for oil changes, brake services, tire replacements, emissions testing, mandated inspections and just about anything else.
Our shop is equipped for all types of routine auto repair services and procedures, including emissions testing, brakes and tires, oil changes, transmission service and more.
You can rely on us for honest, reliable services. We look out for our customers, getting to know your vehicle and recommending smart services, no upsells.
Our family-owned and -operated business is built on pillars of honesty, integrity, and reliability. When we perform a service on your vehicle, expect it to be done right. When you ask us for our opinion, expect a thoughtful response, not an upsell. And, when you put your vehicle in our hands, expect nothing less than the best from our automotive repair shop in Nazareth, PA. We intend to keep your vehicle running smoothly and safely, so you can feel confident getting behind the wheel.
Whether you've got 50,000 miles or are approaching 500,000 miles, we'll treat your car with the attention it deserves and the care it needs.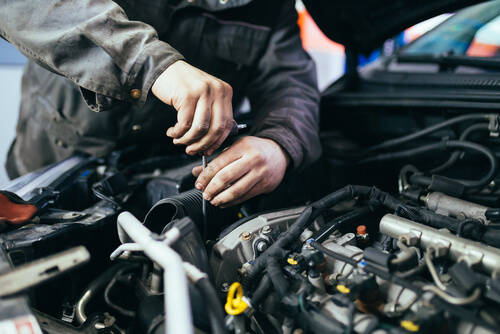 Get Reliable Auto Service
Due for an oil change? Leaking fluid and need a repair? Time for new brakes?
More than just reading your owner's manual, we can recommend the services that your specific vehicle needs based on its condition and use. Our shop is able to service most makes and models, import or domestic, regardless of the year. Bring your vehicle to us and make sure it gets the high-caliber service it demands to stay safe.